Using pallets to create beautiful-looking walls is a popular trend that can make your interior not only functional but charming. An accent wall made of pallets provides an attractive focal point in any room and melds with many styles of home décor. This is why today we'll be telling you all about pallet wall ideas and more.
Furniture made using pallets is a thing, and more people join the trend. If you are looking for a low-cost shelf, using pallets to build your own is a fantastic solution; these aren't only functional but can add a rustic touch to your home decor. A pallet wall will look just great in your room, living room, or bathroom and can hold books, toys, and other knick-knacks.
Contrary to what you may think, putting together a wall using pallets is fairly simple; you are good to go with a few additional materials. Pallets are an underrated source of decoration; it is no secret that heaps of pallets often end up being dumped by stores that receive lots of deliveries. However, these can be turned into functional items you can use at home. Keep reading and learn more about pallet wall ideas.
Pallet Wall Ideas FAQs
Are pallet walls safe?
Some wood pallets used to be treated with dangerous chemicals to kill pests and diseases. Today's treatments are much safer. They simply heat the wood up to kill any living organisms. Pallets without this stamp probably aren't a safe choice for indoor walls or surfaces where you might sit or eat. Pallets with the codes HT (heat-treated), DB (debarked), or KN (kiln-dried) are fine to use.
Can you paint a pallet wall?
Clean the wood thoroughly to make sure the paint will adhere to the wood. To paint it, it is usually recommended to use the 'chip brush' as it's cheap you can find plenty of them. If you've sanded it very smooth for a very finished look, a better quality brush will give you a softer finish. In this case, use a new brush.
Should I seal my pallet wall?
Seal it. The rustic look of the lumber is part of the appeal. However, you want to seal the wall with polyurethane so that the boards don't gray over time and clean it better.
How do you weatherize pallet wood?
If you want full waterproofing for your wooden pallets, you'll want to apply a lacquer or varnish sealant. These sealants should be applied at room temperature and with proper ventilation as the chemicals can be quite strong and even harmful in prolonged exposure. If you are interested in painting your pallets, you can choose the best paint for pallets.
What to keep in mind when choosing your project pallets?
If it does carry a stamp, it must not have the code "MB" on it: MB stands for methyl bromide, which means the wood has been fumigated with a pesticide. Even with treatment, this wood is not safe to have inside your home.
Check the wood to make sure it is clean: If you see signs of a large stain, spill, discoloration, or spots, the pallet might be contaminated by a spilled chemical. Also, check the pallet wood for any foreign or strange scents to the wood. Even old "grungy" pallets should smell like wood, not chemicals.
Stay clear of painted pallets: These belong to pallet rental companies, and you might face a legal charge if you're found using them for home projects or crafts.
Where can you find pallets to use for indoor projects?
Motorcycle dealerships: New motorcycles are frequently shipped in oversized wood pallets. These dealerships often hold a "free" day when they dispose of their crates and pallets.
Pet supply stores: If you're looking for softwood, a pet supply store is the best place to find it. And because these pallets are used to carry animal supplies, these would be safe to utilize for your wood skid crafts.
Construction sites: Wooden pallets in these locations typically carry only cement and joint compounds, all non-toxic materials.
The lumberyard: Lumber yards often have a pallet or two lying around. These pallets are also fine for use because they are generally only used to transport other lumber.
How to treat pallet wood for indoor use?
Clean it up
Scrub the wood down with soapy water mixed with bleach. If you happen to have a power washer, you may use that. After cleaning and rinsing, leave it out to dry thoroughly before you begin working with the wood.
Break it down
Depending on the use you will put the pallets to, you would need these tools for deconstructing the pallets:
Hammer and crowbar – for loosening tight planks and breaking them apart
Oscillating tool – for making quick work of rusty nails
Nail punch – for driving stubborn screws, rings, or spiral-shank nails free
Sand and finish it
If you mean to utilize your pallets intact, the second step is to use a sander for smoothing out the wood and removing surface-level dirt.
This also makes the wood easier to paint. However, if you're going for a patinaed look, you will not want to sand your pallets down, as that will ruin the rustic aesthetic.
If you are aiming for a tarnished veneer look, natural beeswax finishing products will help you achieve that antique, well-worn finish.
Cut and shape it
Cut the wood into whatever shape you need. However, make sure that you avoid cutting near splits, holes, or cracks in the wood when you do this because this will lead to even more splitting and breakage in the wood. You can also add shelves on your new walls; therefore, check out these pallet shelves ideas.
Pallet Wall Ideas
Wood plank accent wall kit includes 12 barn wood boards in a rustic-chic shade of vintage white. Easy to use shiplap paneling for installing wooden wall panels, murals, backdrops.
Use the real wood tile planks as white wood boards for crafts, decorative interior shutters, background wall art, photo backdrops, room dividers, shelves, headboards, or frames.
These distressed white wood wall planks give the impression they've been reclaimed from old barns, buildings, or wooden pirate ships. Every 17″ board is bleached & whitewashed.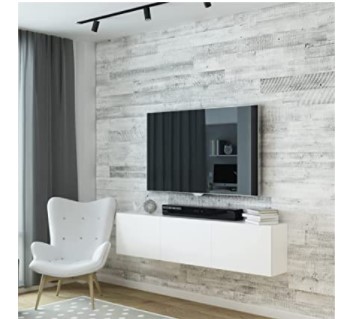 Features:
Vinyl, Wood
20 square feet
Unpolished
This Country Wood is a black and white design representing the look and feel of an old village or the peeling paint of an old barn out in the country.
Each unit of planks is hand-selected to provide the perfect balance of color. When all planks are assembled, your new space will take you back 100 years to that old village or country living; warm, inviting, and friendly!
Smart paneling is very easy to install. The DIY installation kit includes pre-cut planks to be used at the beginning or end of a row and finishing nails. Our design allows you to create a beautiful work of art in your home in minutes.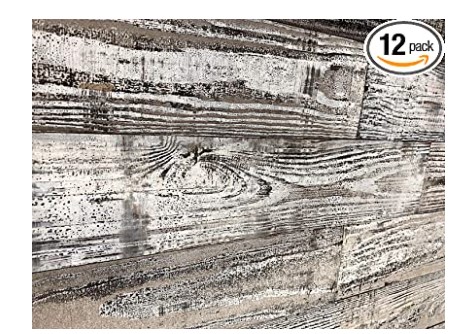 Features:
Smart Paneling
Rustic
Wood
Easy glue and nails installation. No heavy tools or complex mounting hardware are needed. Each 3D panel has a seamless fit.
Cut precisely to fit each other perfectly, making the installation process seamless and fun. Panels are suitable for DIY projects and commercial installation.
All panels have been naturally weathered over time by the elements and include characteristics like deeply weathered grooves and natural splitting, enabling to capture that rustic warmth that can only be achieved with a real wood accent wall.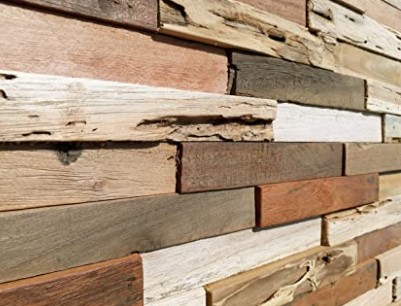 Features:
3D
Rustic Feel
Easy to Install
Bring the beauty of nature and rustic farmhouse character into your living space. The Barnwood planks are made of solid pine wood with authentic grains and knots, and they are double-sided; Both sides can be selected to be used.
Solid wood panels can be easily installed as a fun project. Unlike peel & stick panels or thin wall panels, once installed, panels will stay in place for years to come safely. Liquid nails (or adhesive) and brad nails will be sufficient for a solid installation.
Each box comes with mixed color boards, including different tones of rustic brown, black, gray, dark oak, and a whitewashed piece.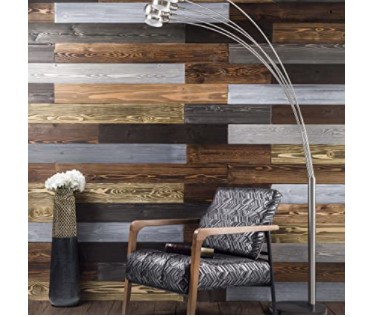 Features:
Rustic Surface
Solid Wood
Versatile
Beautiful Weathered Wood that is naturally aged. This is NOT fake wood. 100% natural rustic reclaimed naturally weathered timber for you to install to create that gorgeous accent wall you've always wanted.
Each piece of wood is unique and will have color variations, along with nail holes, knotholes, and all the rustic character you need to make your wall beautiful!
These boards are beautiful and naturally aged – giving your wall a more authentic barn wood look. Each order will have color variations since each piece of wood has aged individually.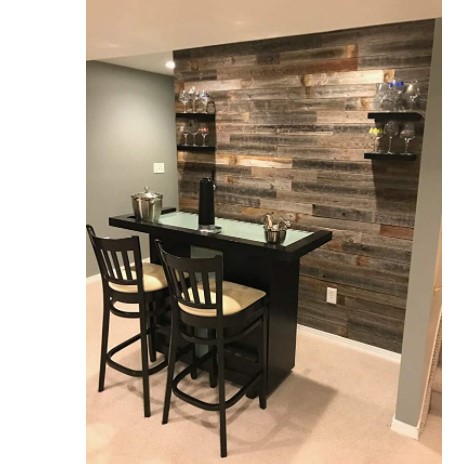 Features:
3 Square Feet
Naturally Weathered
Wall Mount
All of the finishes used on our Weekend Walls reclaimed wood planks are VOC-free to protect your indoor air quality.
All products are certified 100% reclaimed post-consumer wood by the Forest Stewardship Council (FSC) and are both responsibly sourced and sustainable.
5-inch wide natural wood planks are easy to apply, cut, and drill through to hang wall decor. Paneling is durable, lightweight, and as strong as the surface you use it too.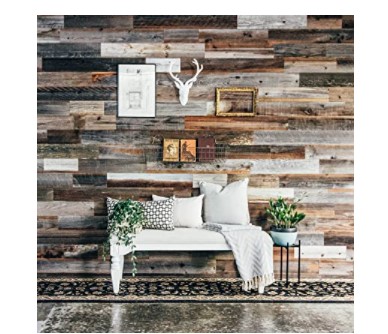 Features:
VOC FREE
Lightweight
Easy to Install
Update a space with RoomMates distressed barn wood plank peel and stick giant wall Decals. Simply peel and stick to any smooth, flat surface for instant results.
Remove, reposition and reuse as often as needed. No sticky residue is left behind. The walls stay clean every time. Add personality to your walls today with RoomMates wall Decals.
Applies to any smooth surface. Decals are removable and repositionable with no sticky residue.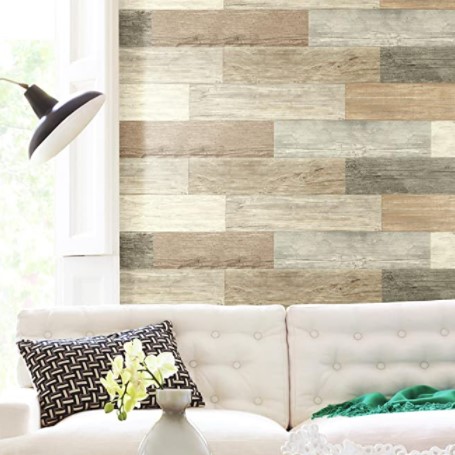 Features:
Multi-colored
Vinyl
4 x 4 x 16.74 inches
DIY Pallet Wall Ideas