Using pallets to create beautiful-looking shelves you can put in your room, living room, or bathroom are not only a great idea but also a cost-effective project you'll love. A pallet shelf is excellent for holding books, toys, and other knick-knacks. This is why today we'll be telling you all about pallet shelf ideas and more.
Furniture made using pallets is a thing, and more people join the trend. If you are looking for a low-cost shelf, using pallets to build your own is a fantastic solution; these aren't only functional but can add a rustic touch to your home decor. Contrary to what you may think, putting together a shelf using pallets is fairly simple; with a few additional materials, you are good to go.
Pallets are an underrated source of decoration; it is no secret that heaps of pallets often end up being dumped by stores that receive lots of deliveries and are usually discarded. However, these can be turned into functional items you can use at home. Keep reading and learn more about pallet shelf ideas.
Pallet Shelf Ideas FAQs
What is a pallet?
A pallet is a wooden structure made using softwood and hardwood; pallets are supposed to hold goods for transport. By look, it might seem a very lightweight or low-quality structure, but it is strong enough to handle the weight of almost every object.
What are pallets made of?
The world's largest wooden pallet producer from the US uses two types of wood, Pine Wood (Softwood) and Oak Wood (Hardwood). This pallet is a solid and long-lasting wood structure that you can rely on, perfect for making your own cheaper and solid wooden items.
Can you make shelves out of pallet wood?
Opt for pallet wood shelves to organize all the messy stuff without getting expensive. Take a few slats of pallets and build miniature shelves. Install the wall as tiered and let them display and organize your stuff nicely. These shelves will rock for kids' nursery rooms.
How thick does a floating shelf need to be?
The thickness of the wood should be around 2″. This thickness will make your floating shelf sturdy without looking too bulky. Aside from thickness, you also need to consider the type of wood you are using and ensure that it's good for us.
Is it expensive to set up a pallet shelf in the room?
That's not the case because pallet is a cheap and durable material to afford for everyone.
Is it hard to build a pallet shelf?
The surprising fact about the pallet shelf is that almost every of you can construct it as it doesn't require lots of knowledge or resources.
Using pallets, you can make any shelf or a pallet rack to hang on your wall to make a smart place for your items like books, houseplants, or any possible thing you can put on the pallet rack.
The pallets' shelf ideas are easy to work on and won't require lots of resources.
Pallet Shelf Ideas
A pallet wall shelf is easy to construct and place on the wall. It is a solid, cheaper, and durable shelf you can have on your room wall. You can use it to place keys, jars, any decoration piece, or anything according to the area of those two pallet wooden slabs.
The elegant and unique structure of this shelf is good enough to bring the attention of everyone around.
This wall-mounted dark brown wood pallet-style display shelf is excellent for use in your entryway, kitchen, or living room. Perfect for displaying photos, keepsakes, and decorative items.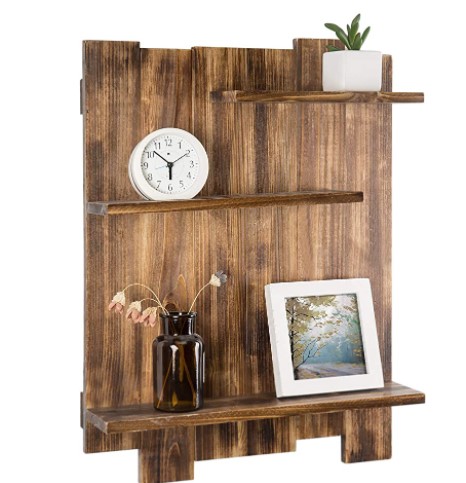 Features:
Country Rustic
Wood
Wall Mount
Bring rustic style to any space with this freestanding shelf rack. Perfect for any table or countertop, this shelving unit boasts four cubby-style shelves for storing your belongings or displaying decorative items and two slide-out drawers that can be used to keep small items safely stored and out of sight.
The sturdy wooden structure of this shelf rack features a dark brown torched-wood finish that adds a perfect touch of country rustic charm to your home decor.
With this shelf rack on any tabletop surface in your home, you'll have the perfect combination of style and storage for your space. You can opt to build your pallet bookshelf using wooden pallet crates.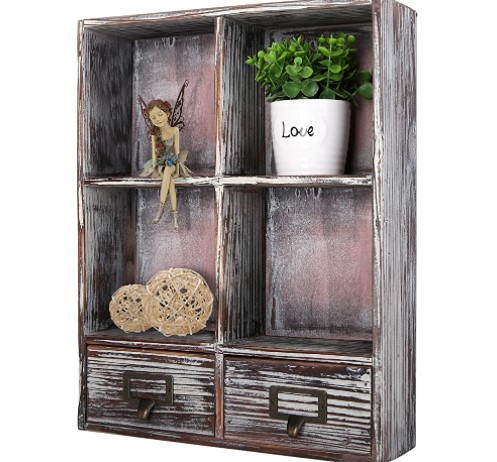 Features:
Rectangular
Country Rustic
Freestanding, Wall Mount, Tabletop
The beautiful signs' love & home' comes with eight letters that can be adjusted according to your wish. You can also place and add beautiful decoration pieces between letters to make them look stunning.
This Rustic Wall Mounted Coat Rack is handcrafted with care and attention to detail and design. We use solid Pine to ensure the sturdiness and consistent aesthetic beauty of the design. All materials are hand-selected to ensure great quality and endurance.
The space between the rustic hooks measures 4.5 inches from center to center. This is bigger than most common coat racks, allowing for maximum usability. The useful shelf can hold keys, wallets, hats, umbrellas, and more. The inlayed hanging hardware was chosen for stability and ease of hanging.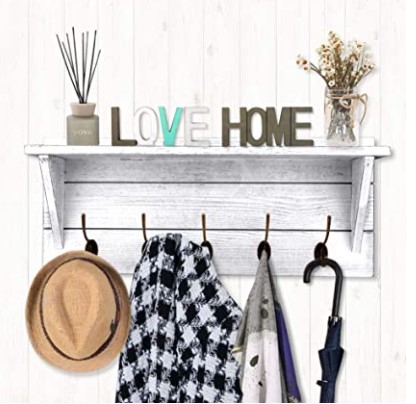 Features:
White, coat rack
Pine, Stainless Steel
Wall Mount
This set Rustic wooden shelf (with an extra bar that keeps things from falling off.)will add charm and usable storage to any space.
These wall shelves contain three different sizes; easily put your cosmetics, toiletries, kitchen supplies, living room decorations, etc. Give your space to place things in your house without looking like a total disaster all the time.
They have two display forms. Install it up, and the protection bar will stop your things from falling. Installed down, you can hang things on the crossbar.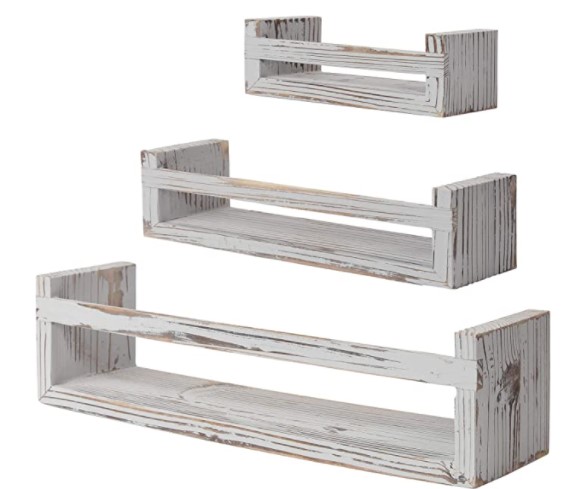 Features:
Stylishly store and organize your shoes, boots, and sandals with this rustic wooden shoe rack. This freestanding shelving unit is perfect for shoe storage in your entryway, mudroom, or closet.
Its top shelf can be used for additional storage and decorative items, and its five shelves assure that there is abundant space for all of your footwear.
Dark grey finish lends well to contemporary and rustic decors. Some assembly is required. Keeps shoes neat and organized, saving space and free of messes.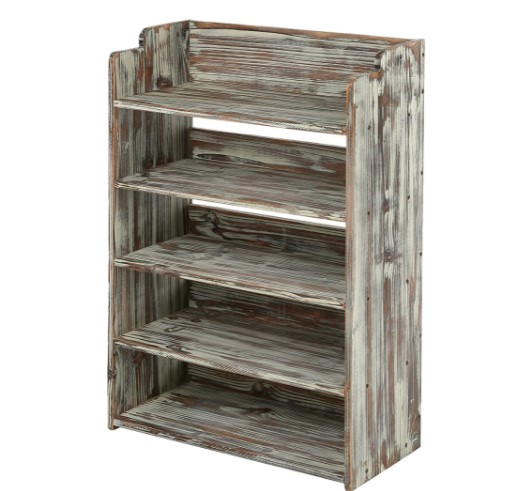 Features:
Country Rustic
Rustic
5 Tier
Add rustic style to your space with this wine set. Perfect for kitchen, dining, and bar areas, you can store up to 15 stemmed glasses and five wine bottles with this set.
Each piece is unique with the wood's individual marks and characteristics. Display your pictures, decor, and more.
The rich tones of wood displays inspire the Rustic Luxe collection. These are perfect shelves for kitchen or dining to store and display stemware, glass, bottles, etc. You can add these amazing wine wall shelves to your new wall; you know you can make a sweet new wall using pallets, read more about these pallet wall ideas.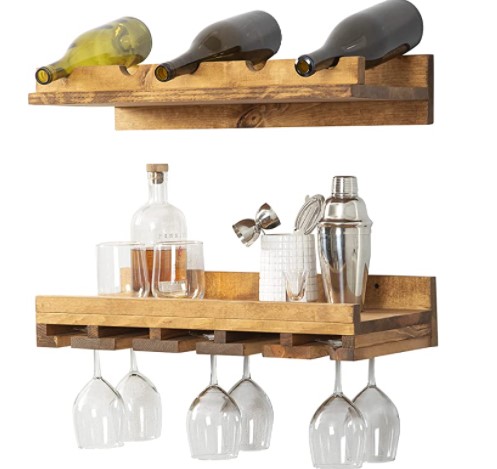 Features:
Wall Mount
Rustic
Handmade
This Wood Wall shelf is designed with minimalist and vintage style, which will add a touch of farmhouse charm to your home decor.
RHF wall bathroom organizer is multi-functional for every daily use. It has a 2-tier shelf and two hooks, features compact and spacious enough. It can play an important role in the bathroom, kitchen, bedroom, hallways, office, etc.
RHF wall shelf, which will keep your entryway neat. This wall shelf organizer is perfect for storing mails, magazines, wallets, keys, or placing miniature plants, photos. It provides a Neat and Clean Look to Most rooms.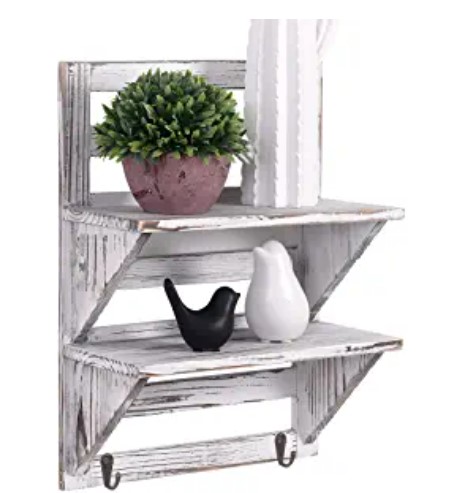 Features:
Wood
Easy to Mount
Versatile