Using pallets to create a neat-looking table for your bedroom, bathroom, or living room is a popular trend that can make for a functional and charming touch. You don't have to spend or do much by using pallets to provide that rustic decor you've wished for. This is why today we'll be telling you all about pallet table ideas.
Furniture made using pallets is a thing, and more people join the trend. If you are looking for a low-cost table, pallets are a fantastic solution. These aren't only functional but can add a rustic touch to your home decor. A pallet table will look just great in your room, living room, or bathroom, and your family and friends will love it.
Contrary to what you may think, putting together a pallet table using pallets is fairly simple; with a few additional materials, you are good to go. Pallets are an underrated source of decoration; it is no secret that heaps of pallets often end up being dumped by stores that receive lots of deliveries. However, these can be turned into functional items you can use at home. Keep reading and learn more about pallet table ideas.
Pallet Table Ideas FAQs
Are pallets safe to use indoors?
Wood pallets are incredibly versatile. Most pallet wood is not chemically treated if intended for domestic use. If it doesn't carry a stamp or marking, it was used only within the U.S. and is likely safe to use indoors.
Why a pallet table?
Low-cost. You can buy them new for approximately $20 or less, though you may have to purchase them in quantities of 10 or more. You can also buy reclaimed pallet wood if you want to make things even more accessible.
You might find them for free. Just inquire with local retailers or warehouses. You may also find them in or around dumpsters; be sure to stay on the right side of the law and clean them well before transforming them.
They're versatile. You can easily disassemble pallets, and some plans don't even require you to do that; you can leave them as they are.
They're light. Well, it depends on the wood and the size of the pallet.
Naturally stylish. Some pallet wood looks pretty good as-is but is also the perfect base for an excellent wood stain or a dog-safe paint.
Eco–friendly. Reusing materials that would have otherwise ended up in landfills is a good deed for our planet, and reusing pallets to build your bed will likely be cheaper than any eco-friendly dog bed out there.
How to safely pick your pallets for your DIY table?
Try to pick the newest, best-looking pallets you can find if you're not buying new ones. Pallet wood can splinter, and new pallets will typically produce fewer wood slivers than older ones, which have been beaten up during use.
Avoid pallets that have been contaminated with dangerous chemicals. It is often impossible to figure out what a pallet has been used for, but the location will provide helpful clues.
When disassembling a pallet, always double and triple-check for loose nails, staples, or screws. These types of fasteners may injure your dog, so you'll want to remove them all.
Avoid super-old pallets, which may be made of wood that's rotting or infested with termites or other insects. Similarly, avoid any pallets that are covered in mold, fungi, or different types of science-project slime.
Where can you find free pallets for your DIY projects?
A pallet sitting behind a grocery store dumpster was probably used for shipping produce, boxed food, or general household products. Conversely, one you find behind an industrial solvent manufacturer may have been contaminated with various dangerous chemicals.
Pallet Table Ideas
Pallet Coffee Table
Materials
Wood pallet boards
Screws
Wood glue
A measuring table
Clamps
A level
A marker or a pencil
A miter saw a table saw or a handheld circular saw
A cordless drill
Directions
Create the tabletop: With a miter saw, work on a flat surface to help make the tabletop as even as possible. It would help to place the boards onto the tabletop of the sketch you made earlier.
Flattening the boards: Make the boards as flat as possible and the edges rounded. If you desire a good-looking study desk, you have to cut off some boundaries to acquire a square shape. This is where you will need a table saw, or a circular saw.
Make pocket holes: The pocket holes should come from the outer board to the inner one. You should drill these holes before adding the screws to prevent the board from cracking.
Stick the tabletops together using wood glue: You need to have four clamps to place two at the bottom and two at the top. Also, you don't have to turn the boards sideways in order to apply glue, as you can place two clamps underneath them.
Trim legs to the desired height: To trim the legs, line them close to each other, measure their heights while marking them, and then reduce the size accordingly using a saw. It is important to check because even if the wood was cut at a store, there is a chance it will not be even.
Stick the legs to the apron joints using wood glue: Position the legs where the aprons meet one another. Spread the glue evenly below the table and inner apron parts. After that, place a leg in each apron, then clamp them in place.
Make some pilot holes into the legs and the aprons: Position the screws at the center where the legs and the apron meet. Drill into the leg with a 1/4 inch drill and the apron on the other side of the leg. Drill a total of eight holes.
Use fastening screws to fasten the legs to the aprons: You can use 0.64 cm screws on each leg. Fix the screws through the apron straight into the leg. Twist the screws into the legs using a ratchet.
Turn over the table to check its stability: Wait until the glue is dry before you can turn over the table. If you are sure it is dry, place it on level ground and check if it is wobbling.
Staining and Sanding the table: Use sandpaper, preferably 80-grit, to sand your table. Use a belt sander to make your work easier as it will not leave any marks. However, sanding is not compulsory. Just apply a sealant to protect the wood from moisture if the finishing is fine.
Pallet Table Ideas Online Options
Living room table space for appetizers, drinks, and decor. It is handmade in the USA using high-Quality Reclaimed Wood.
Adds beautiful rustic accent to home & decor. This Barnwood coffee table is made from 100% reclaimed wood. Completely assembled and ready to use.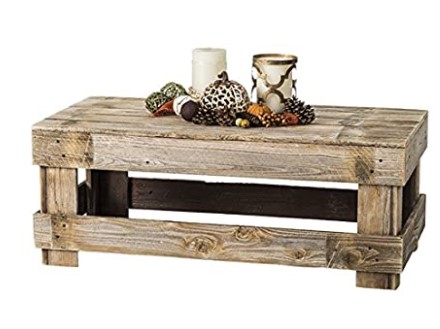 Features:
This beautiful White Farmhouse Coffee Table has been built from 100% reclaimed wood and comes with a roomy storage deck underneath for storing books, magazines, and decor. Measures 40L x 20W x 18H with approximately 8 inches of storage height space underneath.
The white on this table is not a bright stark white but rather an antique off-white that completes the natural weathered look. Once the paint has dried, it is sanded for a smooth distressed finish. This piece will add the perfect rustic charm to your space.
Each of our pieces is handmade with excellence, and we guarantee you will receive the highest quality possible, from the color finish to the structure and durability of its construction. You will love this piece.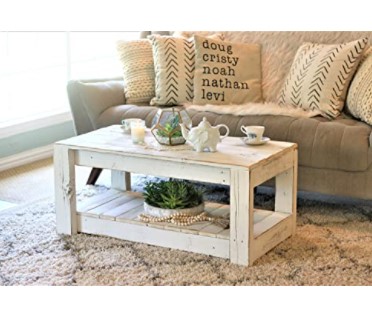 Features:
100% Reclaimed wood
Storage Deck
Rustic Decor
Rustic Barnwood entry table offers a fun and unique decor piece that functions as a place to rest your keys, mail, pictures, and other decors.
The natural, reclaimed wood offers tons of character with knots and unique wood grain. It comes fully assembled and ready to stage in any part of your home.
The natural brown finish celebrates the color and wood grain of the wood. Design works best with rustic farmhouse-style homes.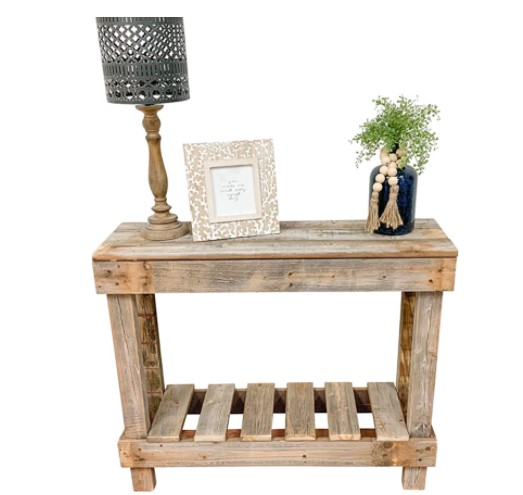 Features:
This industrial cart-inspired rectangular coffee table is crafted of wood with a rustic espresso finish, with four antique black vintage composite caster wheels for easy maneuverability.
This coffee table can be used as an end table or entryway accent. The FirsTime & Co. Factory Farmhouse Cart Coffee Table is a great accent piece to any home or office's vintage industrial décor.
Whether moving into a new home or looking for a gift, make an accent statement in your entryway, kitchen, living room, or bathroom with a stylish and decorative Farmhouse and Rustic piece from FirsTime & Co.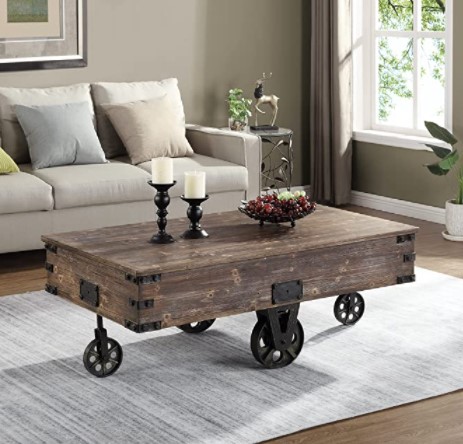 Features:
Accent Piece
Farmhouse Style
Wheels
Pallet Table Ideas Additional Tips
As always, measure twice; cut once. You don't want to run out of material and have to go scavenging for more pallets mid-project.
Before letting your doggo sleep on the bed, be sure to check for any leftover fastenings, such as nails, staples, or screws.
Avoid pallets that may have been contaminated with harmful chemicals.
Watch for splinters. No one appreciates splinters, so you may find it necessary to sand or finish the whole thing.
Use wooden pallets with caution. If you have animals or small children, they may tend to chew up stuff.