Using pallets to create beautiful-looking furniture you can put in your porch or patio area is simple a great and cost-effective project you'll love. Furniture made using pallets is a thing, and more people is joining the trend. If you love a DIY, keep reading and get crafty as we show you how you can DIY pallet outdoor furniture.
Pallets aren't only easy to find, but these often are found for free from businesses in your area. This is why today, we'll be sharing with you a few yet highly effective pallet ideas so you can build your outdoor furniture. Contrary to what you may think, putting together furniture using pallets is pretty simple; with a few additional materials, you are good to go.
It is no secret that heaps of pallets often end up being dumped; however, these can be turned into functional outdoor furniture on your property. When it comes to furniture, pallets make the ideal building block and are certainly a logical and budget-friendly option for DIY builders to consider; so continue reading learn everything you need to know about DIY pallet outdoor furniture.
DIY Pallet Outdoor Furniture FAQs
Why pallet outdoor furniture?
The outdoors are in dire need of good furnishing so that you can enjoy your warm-weather fun and joy to the fullest. Using recycled wood like the pallets and the barn wood, you can feasibly craft the desired seating, dining, and other pallet patio furniture needs at a low cost. All you need to do is find some pallets from places like barns, fields, or the old building.
Is pallet wood good for outdoor furniture?
Due to the rustic nature and appeal of wooden pallets, they are ideal for outdoor projects. However, as with all products and items meant for outdoor use, wooden pallet furniture or decoration will be subject to impact by the elements such as sun, wind, and rain.
Pallet wood is sturdy enough to yield robust furniture pieces that would stay for ages.
How long will pallet furniture last outdoors?
If you want to store your wooden pallets outside, you can do so for a few months before noticing signs of mold or rot. However, if you're planning on keeping them long-term, it's best to store them in a dry area, protected from sun exposure.
How many pallets do you need for a pallet sofa?
Numerous guides show you how to make a pallet sofa for your garden, using just three pallets, minimal tools, and all for zero cost.
Do you need to seal pallet wood?
The rustic look of the lumber is part of the appeal. However, you want to seal the wall with polyurethane so that the boards don't gray over time and clean it better.
What kind of outdoor furniture can you build with pallets?
You can build all sorts of outdoor furniture with pallets like outdoor benches, pallet chairs, patio lounge, poolside loungers, Adirondack chairs, a fantastic L-shape pallet sofa, picnic tables, or other tables you might have in mind; for that reason, read our pallet table ideas.
Will pallets rot outside?
Pallets can be stored outdoors for more extended periods if the air moves through them to dry out the boards. Be aware that even indoor storage in a tight, damp area can lead to rot. When you bring in a new load of wooden pallets, make sure you use the older pallets from the back of the row before moving to the new ones.
Can you leave pallets outside?
Where possible, you should store pallets outside or within structures free from fire hazards such as compressed gasses and other flammable objects to minimize the threat of combustion.
DIY Pallet Outdoor Furniture
DIY Pallet Seating
Tools:
Pallets
Exterior Treated Wood
Landscaping Fabric
Drill
Exterior Screws
Wood Saw
Sander
Wood Sealer
Wood Stain/Paint
Directions:
#1 Dismantle Pallets
Removed the extra planks of wood that aren't integral to its structure.
To remove the planks that aren't integral to the structure of the pallet, simply turned the pallets upside down and hit the planks off using a hammer against a large wedge of wood.
#2 Treat the pallets
Pallets are usually designed for outdoor use anyway, but giving them further treatment really isn't bad! You can use a decking preserver first and then also a colored decking stain on top of that.
#3 Arrange the Pallets and Secure Together
Decide where your pallet seating is going and lay some heavy-duty landscaping fabric across the area.
Once the fabric has been laid, you'll then want to secure the pallets together in stacks of three.
Simply add screws through the top pallet into the one beneath it, and repeat this for each pallet. When you're done, you should be able to move each stack of pallets as one single object.
If your pallets are also slightly off-size, make sure the front of the pallets are at least aligned and flush with one another.
#4 Affix backrest
This step of the DIY pallet seating is optional. Attach three lengths of an exterior treated timber (approx 100cm tall) to the back of each stack of the pallets.
Use lengthy strong screws for this and screw them into the woodblocks, which you can see on each pallet.
Then attach another length of timber across the top of those and two lengths through the middle to complete the frame.
#5 Lay the planks
Go ahead and lay the planks you removed earlier in step 1 onto the top of your seating and also along with the backrest too. You are essentially using the wood you added in the previous step to secure them.
If your planks are slightly odd sizes, then you may need to cut them down. It's also a good idea to leave a few mm gap between each plank to allow for expansion.
#6 Sand and Re-Paint
To avoid the possibility of getting a nasty splinter on your bum, make sure to sand the planks down real good.
#7 Lay Planks along the front
This step was pretty easy to do and is very similar to step 5. However, you'll be laying the planks horizontally rather than vertically this time.
Screw the planks straight onto the stack of pallets, staggering them for a slightly more rustic look.
#8 Build an Armrest
It is built in the same way as the backrest, except it's a shorter version. Make sure to build this part extra sturdy with thicker lengths of timber (45mmx95mm).
#9 Lay Planks on both sides
Lay these vertically to match the backrest rather than horizontally. It just involves screwing into the timber you added in the step above.
#10 Add Final Touches
Lay more planks along the top of the backrest, armrest, and anywhere else that may still be showing the structural timber frame.
DIY Pallet Outdoor Furniture -Ready-Made Samples
High-quality euro-pallet cushions: indoor and outdoor suitable – Modern self- made euro pallet couch Turn an ordinary euro-pallet into a stylish and comfortable sitting opportunity.
We can offer you high-quality products, which will serve you longer than one season, the material will not be discolored, and cushions will not rip.
The 12 cm thick cotton and linen are made of dimensionally stable, elastic filling material (polypropylene cotton)polyester fabric.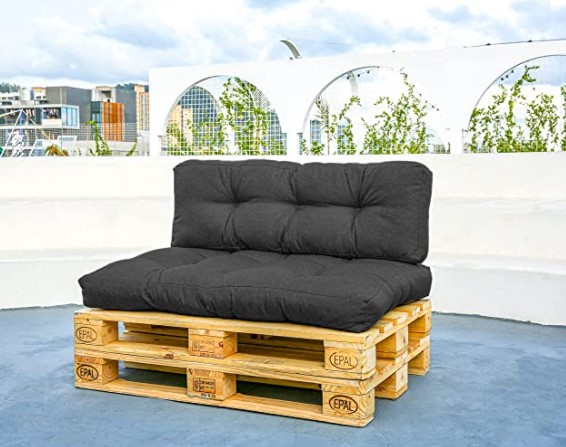 Features:
Rectangular
Polypropylene Cotton
2 Piece Set
The set has a seat, back, and side cushions to meet various needs. The quality stitching on the edges of the cushion ensures years of service.
It is suitable for indoor and outdoor use with thick padding and upholstered wearable fabric.
This cushion set fits most garden sofa set and suit any outdoor decor with its universal design.
Make your garden pallet sofa more comfortable while adding a splash of brilliant color with this unique set of cushions!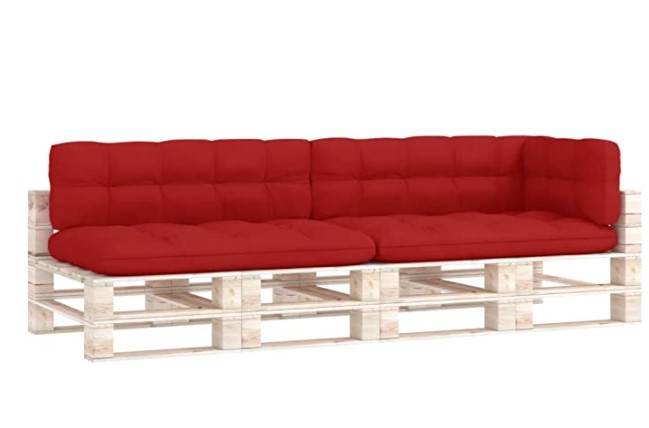 Features:
100% Polyester
5 Pieces
Outdoor
It is suitable for indoor and outdoor use with thick padding and upholstered wearable fabric. These cushions fit most garden sofa sets and suit any outdoor decor with their universal design.
The quality stitching on the edges of the cushion ensures years of service. Make your garden pallet sofa more comfortable while adding a splash of brilliant color with this unique set of sofa cushions.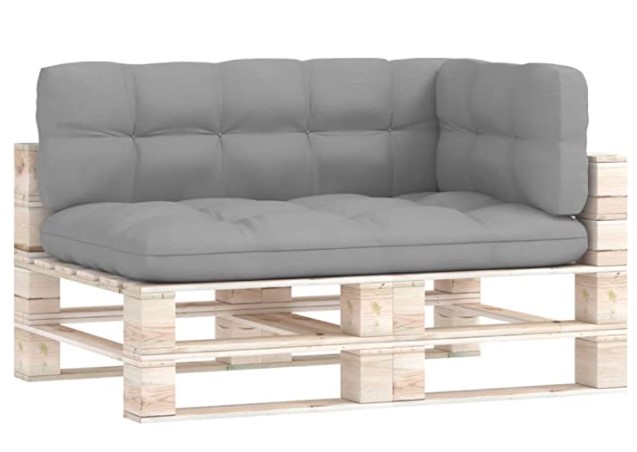 Features:
3 Pieces
Sofa Cushion
100% Polyester
DIY Pallet Outdoor Furniture Additional Tips
Most of the sitting furniture projects are based on stacking pallets, and you can use the pallet stacking formula to build adorably cute wooden benches, sofas, large L-shape couches.
The beauty of the pallet couch or sofas will also depend on the cushion or seat mattress that you will use.
You can paint the pallets you will stack and install the bottom rolling wheels to your finished furniture items or an added grace and industrial touch.
Add extra features to your furniture by adding shelves for your picture frames, candles, book, etc. Read everything we got regarding pallet shelf ideas.