Are you wondering about the best paint for pallets? We hear you. Using pallets to create neat-looking and unique pieces is becoming more and more popular. You don't have to spend or do much by using pallets to provide that rustic decor you've wished for. However, if you want your pieces to look professional, knowing the best paint for pallets is essential.
Furniture made using pallets is a thing, and more people join the trend. If you are looking for a low-cost furniture option, pallets are a fantastic solution. These aren't only functional but can add a rustic touch to your home decor, especially when you are looking for a distressed, shabby chic, vintage, or mid-century inspired look of your recovered furniture pieces from pallets.
Contrary to what you may think, the painting process is not that complicated and can be done by anyone. You are good to go with the right tools and the right direction. Keep reading and learn more about some of the best paint for pallets options and more useful tips.
Best Paint for Pallets FAQs
Why is painting pallets important?
Painting pallets is important if you want to get your finished pallet product to match your interior decor styles! Paint and stain both come in handy while creating a distressed, shabby chic, vintage, or mid-century inspired look of your recovered furniture pieces from pallets! Therefore it becomes really important to know about the nature of paint and stain to change the look or hue of your pallets into any of your favorites.
Should you paint or stain your pallets?
Both painting and staining provide a valuable and essential protective layer over the ​wood. Without either, the wood would weather and deteriorate quickly. If your pallet piece is being used outdoors, such as deck flooring, this could happen in less than a year.
Even indoors, with paint or finish, the wood is susceptible to many things that will shorten its lifespan.
What kind of paint do you use on pallets?
One can use latex or acrylic paints to paint those rustic wooden surfaces; these paint types have their own specifications, stability criteria, and capacity to withstand the weather and water! You can go with any of these two depending on budget, weather conditions, and wooden species.
How to select the paint for your pallets?
​With paint, you can select virtually any color you want. The paint will go on the pallets and take on your chosen color. This allows you to match the pallet furniture piece to any room of your house, adding a color balance to harmonize the room.
Paint will also completely cover the pallet wood, hiding almost all of its imperfections. Given the nature of ​this type of weathered wood and how it is usually pretty damaged, this might be something that is really attractive to you.
Do you need to prime a pallet before painting?
Since pallets are likely to be porous, that can give your paint job a very uneven finish. I would recommend priming your wood before painting. If you are going for a rustic, aged look, then, you could probably get away with skipping the primer. Primer would just help give your paint job an even finish.
How do you make wood pallets look good?
To sand wood pallets, use sandpaper sheets or rolls in medium grit, and gently sand all areas of the piece to remove rough edges, working in the direction of the wood grain. Sanding across the grain leaves scratches that become obvious if you choose to apply a coat of paint, stain, or varnish afterward.
How do you treat outdoor wood pallets?
If you want full waterproofing for your wooden pallets, you'll want to apply a lacquer or varnish sealant. These sealants should be used at room temperature and with proper ventilation as the chemicals can be quite strong and even harmful in prolonged exposure.
How do you paint old wooden pallets?
Clean the pallet
Clean the wood thoroughly to make sure the paint will adhere to the wood. We usually recommend the "chip brush" to paint it as it's cheap. If you've sanded it very smooth for a very finished look, a better quality brush will give you a softer finish. Pallets tend to be porous.
Sand the pallet
You also might want to do a little sanding of your pallets​ to prep them for the paint or stain application. Pallet wood comes rough, and perhaps that is the way you want it. However, for certain types of projects, you need a smoother finish to the wood, and that is where sanding comes in.
Filling cracks and gaps
For some, this is a step worth skipping. The entire reason you are working with wooden pallets in the first place is that you like the imperfections that it brings.
However, for others, you might want to spend a little bit of time filling in large holes, cracks, or gaps that the pallet ​comes with.
Priming
Again, this is an optional step. If you truly want to cover your pallet thoroughly in paint, then you'll want to cover your pallet in primer. If you're adding primer, apply one coat thoroughly.
You don't need to worry about having an even look, but make sure you have thoroughly covered all of the wood with primer.
Painting
Apply the paint in a consistent, even manner. Keep a wet edge by overlapping as you paint. Avoid drips or runs, and make sure not to apply too much paint in one sitting. To apply an even coat, we recommend using an interior paint sprayer.
Best Paint for Pallets
Perfect for refinishing and protecting exterior wood such as picnic tables, chairs, swing sets, and more. Water-based formula is 4X thicker than other outdoor furniture paint to provide deeper color and solid hide. You can use this paint on your outdoor furniture; read our DIY pallet outdoor furniture article.
Dries to the touch in 2-4 hours and covers approximately 20 sq. ft. per quart – two coats recommended. Extra durable paint extends the life of wood in the harshest environments and protects from weathering.
For use on all types of hardwood – do not use composite decking, concrete, fiberglass, tile, or metal surfaces. You can also use this paint on your garden fences if you don't have one but are looking forward to building one; read about Pallet Fence Ideas.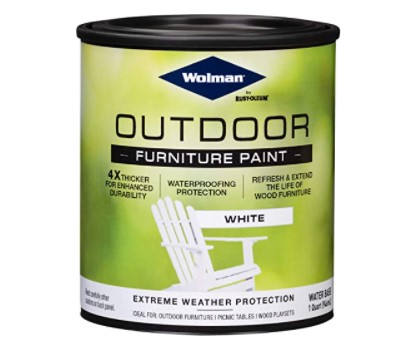 Features:
32 Fl Oz
Watercolor
Wood, Furniture
It's AMAZING what a little paint can do. With All-In-One Paint, it's as easy as Just Clean & Paint! Transform everything inside (and outside) of your home with one easy-to-use product.
It is ideal for hard-wearing surfaces like cabinets, tabletops, front doors, and more due to the built-in exterior
grade topcoat.
It is also made with a stretch factor to this amazing paint that allows you to paint leather, vinyl & smooth fabrics with ease. I used this paint when we designed dog beds with pallets; if you are interested in doing some awesome furniture for your furry friends, check out these DIY pallet dog bed ideas.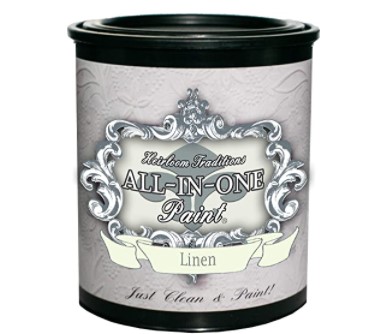 Features:
Oil, Watercolor, Acrylic
All in one paint
Matte
Rust-Oleum Stops Rust Protective Enamel Paint is the No. 1 rust-preventive paint available, providing lasting protection and beauty in a wide variety of colors and finishes.
It also offers excellent coverage, chip resistance, and color retention. For even longer-lasting protection, use a Stops Rust Primer first.
For a low-sheen satin finish so beautiful, you'd never suspect it's also one of the top rust-preventative paints on the market. The palettes of nature-inspired colors are perfect for furniture, decor like shelves, reading our pallet shelf ideas, and more.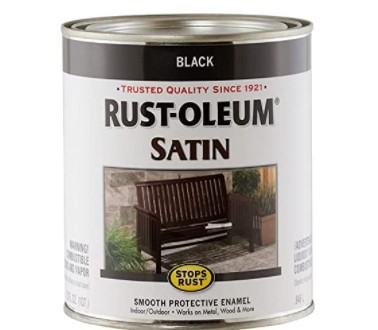 Features:
Enamel, Mineral, Oil
Wood, Metal
Black
Diamondhard RePurpose Paint is the perfect product for any re-purpose project you may have. More versatile than chalk paint (which is marketed strictly for furniture).
Diamondhard Re-Purpose works on all interior and exterior surfaces, including aluminum, brick, copper, drywall, glass, plastic, steel, tile, and anything else you may be creative enough to try it on.
Perfect product for all you crafty DIY-ers out there who want to add a little more color to your lives.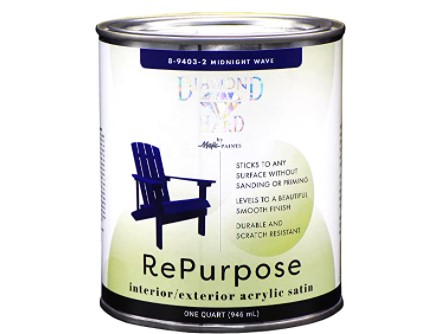 Features:
Oil, Enamel, Acrylic
Wood, Tile, Doors, Furniture, Glass, Metal
Satin Finish
This DIY paint contains built-in primer and topcoat to paint almost any surface, indoor or outdoor, including wood, laminate, glass, metal, and kids toys; wax & sealants are optional.
No harsh chemicals such as phthalates, formaldehyde, heavy metals, or solvents; ultra-low VOC including pigments; low odor; certified safe as per European Toy Safety Standards.
It is formulated for furniture, home decor, kitchen cabinets, upholstery, craft projects & more. Paint dries within 30 minutes to a chalky matte finish that's easy to distress if desired, yet very durable; self-leveling for a flawlessly smooth finish; blend colors with ease.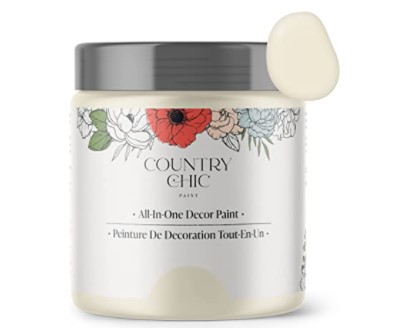 Features:
Eco-Friendly
All-in-One
No Wax Needed
Best Paint for Pallets Additional Tips
Sometimes, your pallet furniture piece will feel too slick and painted when you're done. If you want to reduce this look and feel, use wonderful sandpaper and lightly run it over the piece.
Try sanding the paint with heavier sandpaper if you want to add a more rustic look. This will "scuff" up the paint in areas and allow some wood grain properties to show back through. Be careful, though, as over-sanding can ruin the project.
If the pallet wood you're using is for an occasional holiday decor piece, then considering carving a scroll saw pattern for the holidays​ might be a good idea.
The pallet wood species become darker with dark stain coats, so avoid dark shades such as dark walnut stain and go with those brighter ones that make the wood more visible and pleasing to the eyes.
The stain creates more stability to wood and can lock the wooden integrity for a whole lifetime, so stain the entire structure of your finally finished design of pallet furniture to make it lasting and live longer.
One to two coats will be needed, and you'll need to leave the paint to dry for one hour before flipping the pallet over and painting the underside. You might need to use a brush for the harder-to-reach areas.